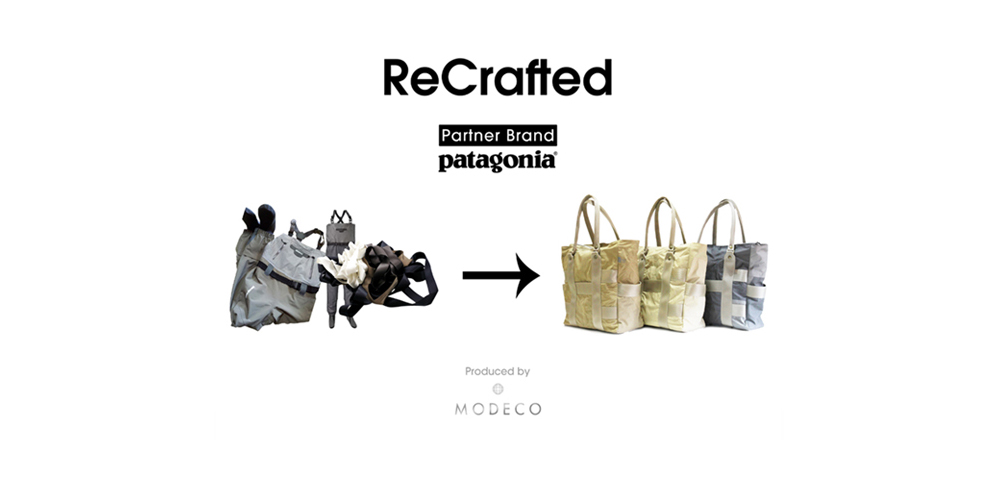 A Japanese local brand, MODECO released upcycling brand, "ReCrafted"series in 2014. The first model is upcycled products made of used waders collected through the Common Threads Partnership Program conducted by an American outdoor brand, Patagonia Japan as the first partner brand.

The waders upcycled for "ReCrafted" as upcycled materials were suitable for bags because of their high quality abrasion resistance and water proof. On top of that, mill ends such as car seatbelts, etc that have been upcycled by MODECO are reinforcing the products. Patagonia is known for its original manufacturing process focusing on the durability and functionality. However, every product has a life expectancy. Those expired products have been collected by Patagonia and recycled. Upcycling the materials prevents from utilising energy and raw materials to produce new materials. The product is manufactured with their craftsmanship managing quality control to meet their strict criteria.
The reason why we chose Patagonia Japan as an open platform rather than having both of our companies' names is because we agree on the idea of an environmental program director, Mr. Kenji Shino, "We hope the project to be something that other wader makers and brands can participate in". MODECO hoping to have a beneficial influence on the project is also considering to upcycle other sport goods expanding "ReCrafted" series in the future.

Patagonia's former business was a blacksmith supplying climbing equipment with craftsmanships. Though It currently manufactures clothing, it still meets the quality standard for industrial products and mountain climbing gear. These products were reborn with MODECO's artistry. Therefore, we named this brand "ReCrafted" combining the meaning of renewal and craftsmanship.
MODECO joins a global network over 1100 companies from all over the world who participate in, "For the Planet" and donates 1% of sales to non profit organisations contributing to protecting the overall environmental health of our planet.